FLORAL PODS
Twelve mysterious giant capsules, brightly illuminated along their edges, hang suspended, cocoon-like, from the ceiling of the IFTF Expo hall Netherlands.
These spectacular floral pods – by leading Dutch designer Jessica Keet – first arrived in this prime location in 2016; and looked so amazing, they came back again this year for a return visit!
Over twice a person's height, the huge pods contain a lush selection of beautiful foliages from Premium Greens Australia, paired with favourite flowers in a palette of warm autumn shades.

IFTF entrance 2016 above, before the show opens; IFTF 2017 below, during the show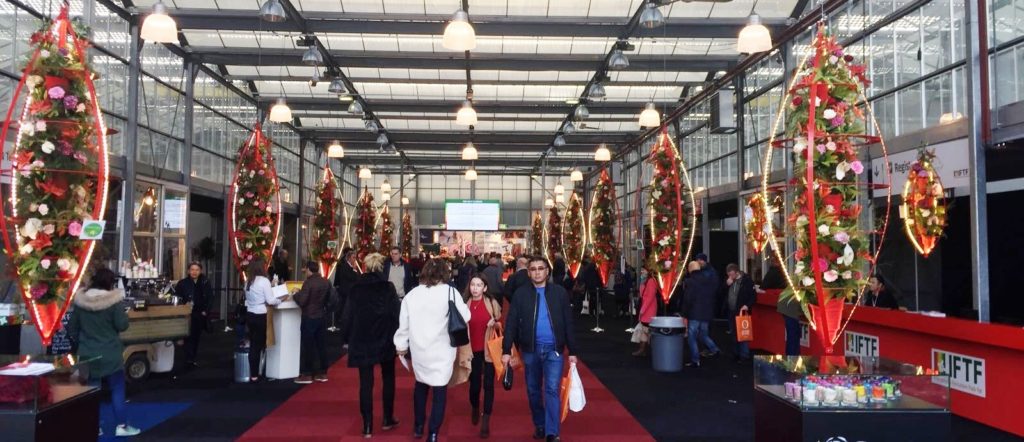 A spiral of cones, swaddled in pumpkin-coloured cloth, holds abundant fronds of luxuriant Umbrella Fern™, and slender-leaved Sea Star Fern™, from the under-story of Australia's subtropical forests.
Tall stems of Emu Feather™, delicate and airy, softly trail between lilies, callas and roses.
Giant Gymea leaves, an impressive two metres long, enclose the flowers and greenery in a fresh green cage.
These dozen capsules, hanging enigmatically along the entrance to this European flower trade Expo, lure visitors into their aura, inviting them to come closer, look deeper, explore, investigate.
And in doing so, they discover the beauty and versatility of Australian native grasses, ferns, and foliages.
International Floriculture and International Trade Fair (IFTF), currently in its eighth year, is an annual trade event held in the Netherlands, showcasing the best of international flowers and foliage through exhibition, competition, and creative design.
Premium Greens Australia is proud to be a part of this event, and to bring our beloved Australian greenery to a wider audience through designer Jessica Keet's stunning installations.