Dress Up Basic Bunches With Foliage
Valentine's Day is such hard work when you're a florist – it's actually a Valentine's fortnight when you factor in all the preparation and ordering and making sure all staff are available and delivery drivers are in place.
Plus your buy-in prices can double overnight as global demand for flowers soars. So anything that makes it easier, faster and more profitable to produce a stylish, expensive looking bouquet has to be a good thing, right?
Our native foliage is fantastic for making a basic straightline bunch of a dozen roses ( or six, or one hundred!) look like a special high-end bouquet.
It's also an essential part of the florist toolkit when dressing up a single stem rose into a presentation gift.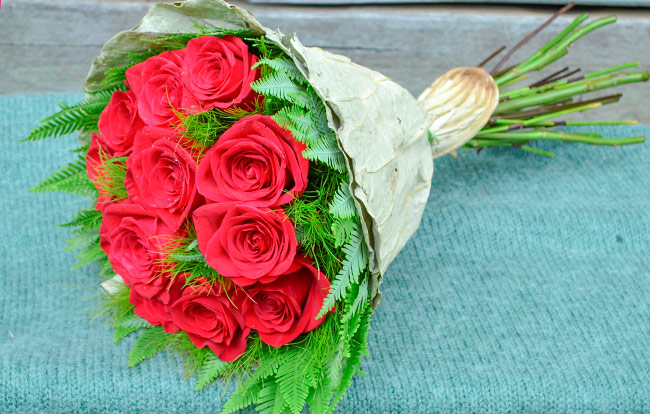 This red rose bouquet (pictured above), surrounded with Umbrella Fern, has been wrapped in a natural biodegradable lotus leaf to create a very eco-friendly and stylish gift. Sheets of paperbark as an alternative to lotus leaf would give this one an Australian twist.
Take a few stems of Umbrella Fern to create a collar of soft green around a bunch of roses (and other focal flowers.)
You'd need seven to ten stems to get the full effect of the left-hand image; only three stems for the image on the right.
Umbrella Fern grows with the leaves horizontal to the stem, with a full circle of fronds. There's a little niche at the base of the frond circle, perfectly shaped for tucking around flower stems.
It's very easy – and fast – to add the finishing touch to a strauss or handtied bouquet with Umbrella Fern in this way.
One single stem of tropical ginger gets the star treatment with a luxuriant collar of Sea Star Fern.
Sea Star Fern is shaped like Umbrella Fern, with a full circle of leaves held horizontal to the stem. The individual leaflets (frondlets) are much more slender than on the Umbrella Fern.
These slender fronds also dry very well, and take spray colour very well. Spray a couple of leaves red, or gold, or silver, to add a touch of bling for those customers looking for something a little jazzy.
The 100-red-rose bouquet below was created by leading UK retailer Marks & Spencer last year.
The addition of a simple twist of our FlexiGrass – formed into a heart and tied with a short length of ribbon – makes a bouquet that any florist could produce, into something distinctive and eyecatching.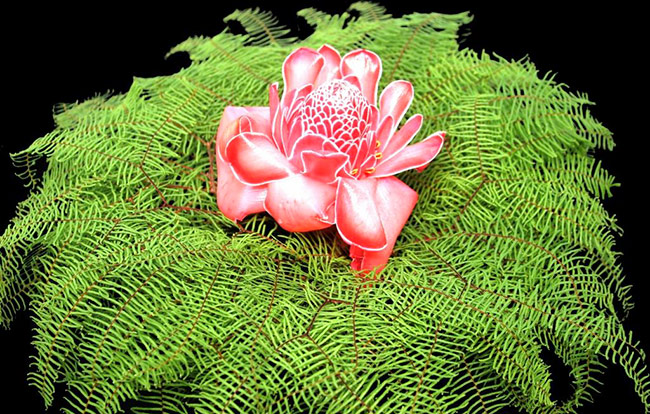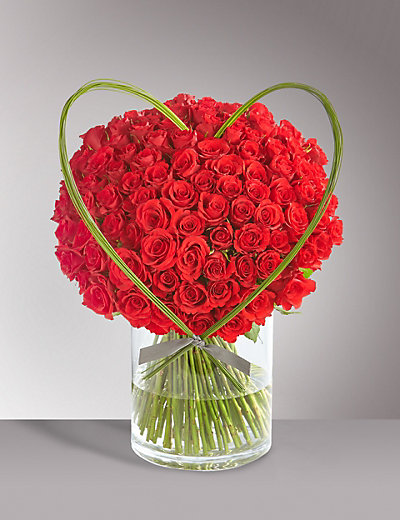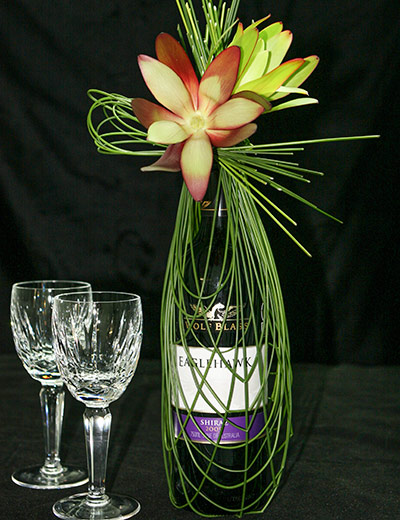 If you have an alcohol licence, it's easy to dress up a bottle of bubbles, or local wine, with a small bunch of our Flexi Grass. It turns a last-minute impulse buy into a fancy gift that will impress the recipient.
This technique shows off your floristry skills, and is much more special than a basic gift bag. You can prep these a day or two in advance and they will stay green.
You can find the full step by step instructions on how to recreate this here.